Question:

No connection between Dispatcher Console and Radioserver

Answer:
1. Versions
Make sure that you use SmartPTT Radioserver which is the same version as SmartPTT Dispatcher (Builds should also match!).
If versions are different, Radioserver Name will be highlighted with red color and there will be sigh that Dispatcher didn't connect to Radioserver (as on screenshot).
SmartPTT Dispatcher of Enterprise setup package can connect to SmartPTT Enterprise Radioserver only, SmartPTT Basic Dispatcher - to SmartPTT Basic Radioserver only as well as SmartPTT Plus Dispatcher- to SmartPTT Plus Radioserver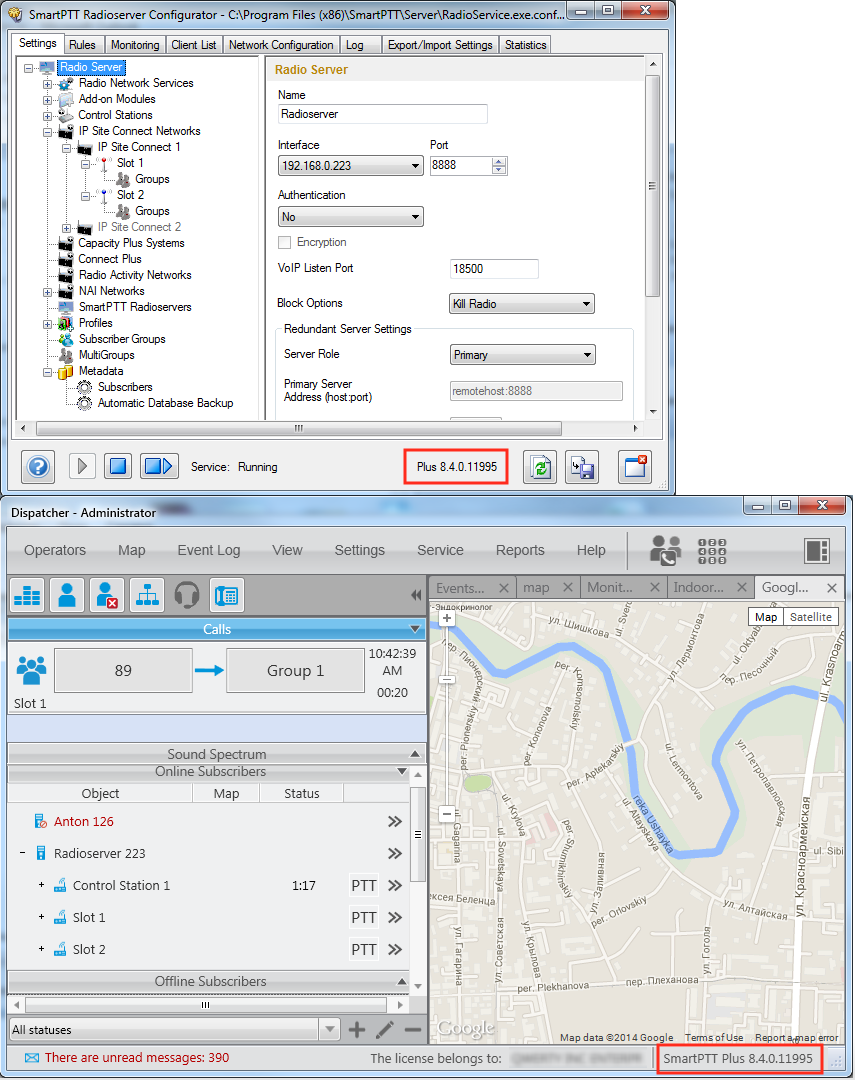 2. Radioserver Settings
Make sure that Dispatcher connects to Radioserver by appropriate parameters specified in Radioserver Configurator.
To connect Dispatcher to Radioserver, go to Settings->Radioservers->Add and specify appropriate settings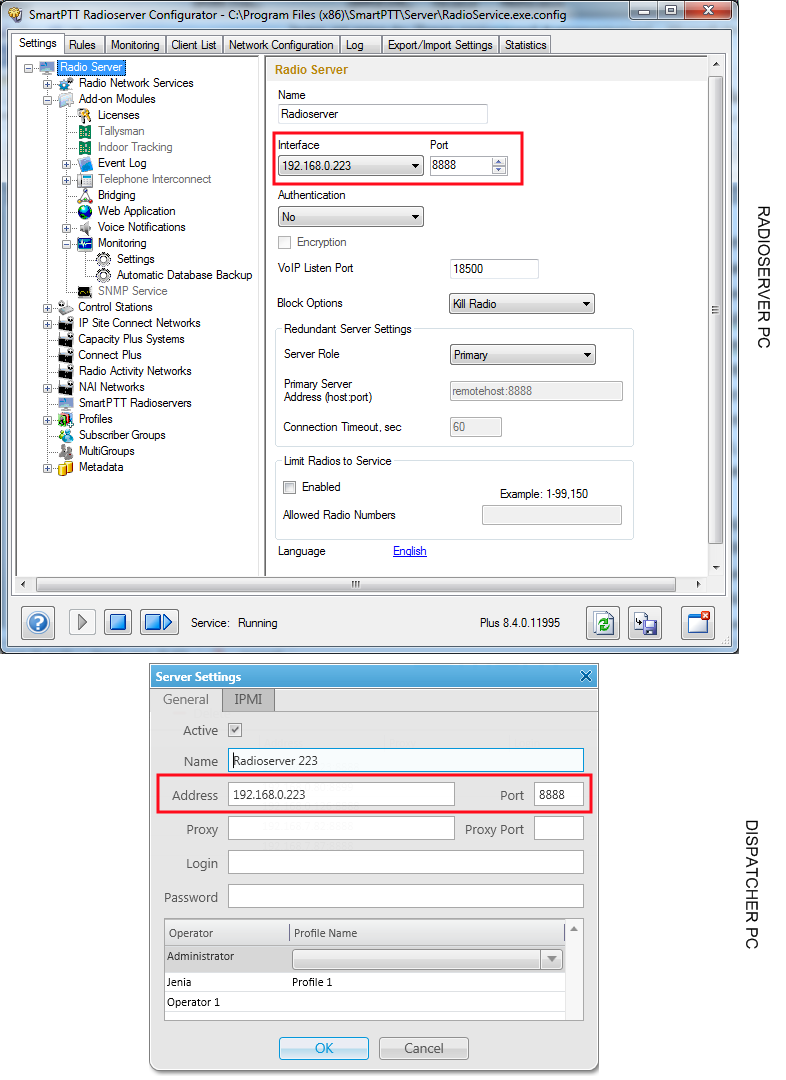 Notes!
- If you have several interfaces on Radioserver PC, select specific IP address (NOT Any)
- If Radioserver and Dispatcher are installed on one computer, then you can also use Loopback Interface. Select Loopback in the list of Interfaces on Radioserver and then in Radioserver settings specify 127.0.0.1 port 8888
- If Radioserver PC has one interface only and it changes dynamically, you can specify Any in the list of interfaces and then on Dispatcher console specify Radioserver Computer Name (if they are in the same domain or installed at the same PC)
3. Ping
Ping Radioserver PC IP address from Dispatcher PC.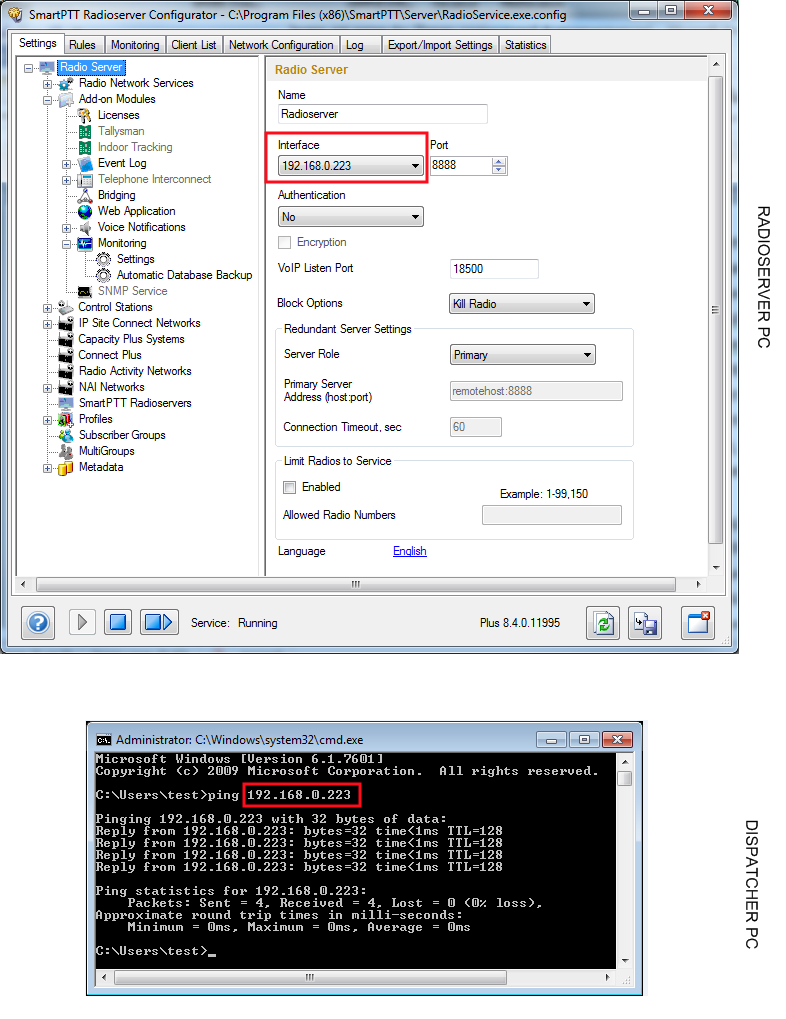 4. Authentication
Make sure that you use NO Authentication on Radioserver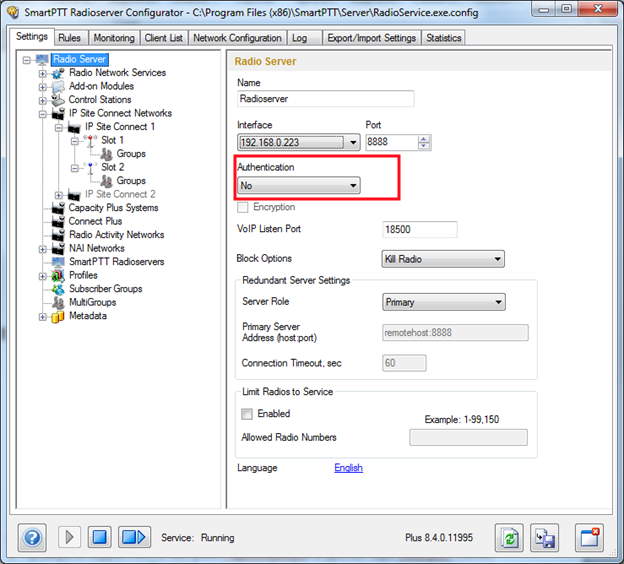 5. Windows Authentication
If you use Windows Authentication on Radioserver, then select Authentication: Windows and in Dispatcher settings specify Login and Password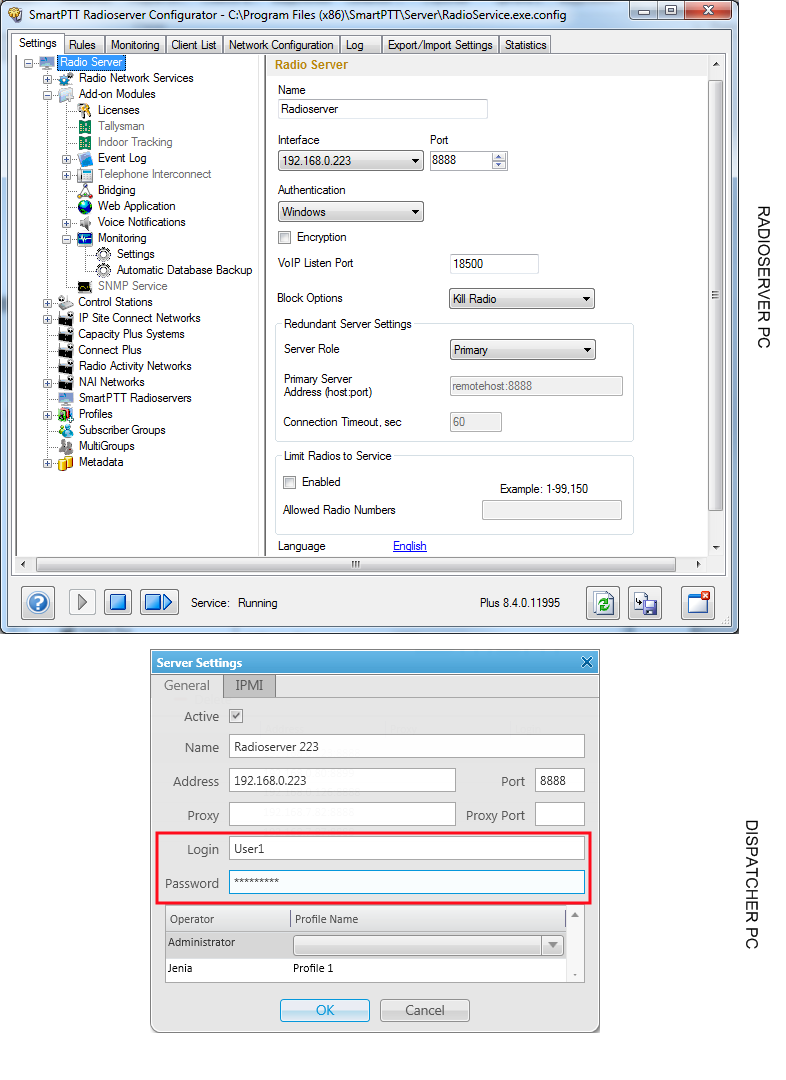 Note! User with such credentials should also be created in Windows systems.
6. Radioservice
Make sure that Service is successfully started.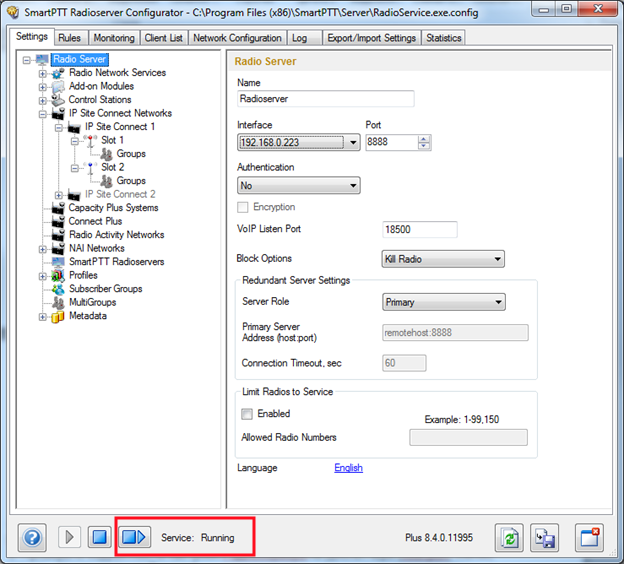 7.Firewall
Make sure that all ports and IPs specified in Radioserver Configurator are not blocked by Firewall protecting Dispatcher or Radioserver PCs.
8. Port Forwarding
If Radioserver and Dispatcher are in different subnets, then make sure that Port Forwarding is configured (Ports TCP 8888, UDP 18500 and 18501 should be forwarded).
9. Proxy
If Radioserver PC is behind Proxy, in Dispatcher settings specify IP Address, Port, Proxy and Port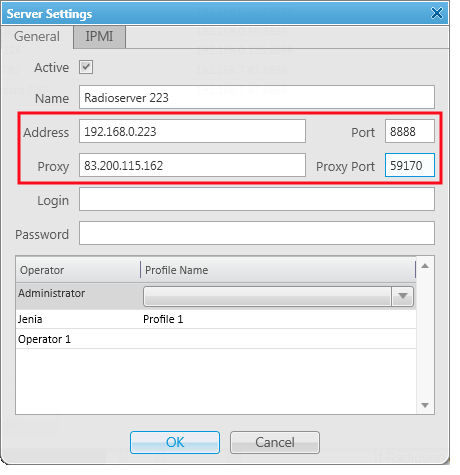 10. License
If you connect more Dispatchers than allowed in SmartPTT license, then Dispatcher which tries to connect when limit is exceeded won't be able to do that. In this case Radioserver icon and name is highlighted with red color.
Number of allowed Dispatcher you can see on Radioserver->Add-On Modules->Licenses.
Total number of available Dispatchers is Number of Additional Dispatcher licenses+1. 1 Dispatcher License is included to SmartPTT Enterprise License which is seen in Dispatcher.